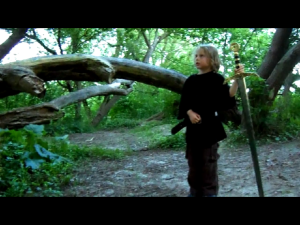 On October 25, 1415, King Henry V convinced 6,000 tired Englishmen to battle against 36,00L0 well-rested Frenchmen. This Saturday, exactly 599 years later, Jonah Manley will release an internet video commemorating this turning point in the Hundred Years' War. The two armies battled near the town of Agincourt, in Northern France. Jonah, however, filmed his video near Kemp Park in northern Stratford.
Only six years old at the time, Jonah recites from memory the entire 4-minute Speech of St. Crispin's Day from act IV, scene iii of Shakespeare's King Henry V.
"Each night after dinner," says Jonah's mother, Nicole, "his dad and him would go for a walk in the park behind our apartment. John would read each line from the play and Jonah would repeat." All the while swatting an army of mosquitos.
"I was surprised how fast he caught on," says John. "What you see in the video is totally uncut. We zoom in and out a bit, but we didn't edit out any errors."
The year of editing that did go into the video involved creating the opening introductory text, acquiring a soundtrack from artists in Sweden, typing subtitles and adding a behind-the-scene documentary.
"I wanted to record the speech with Jonah walking through the woods," says Jonah's father. "He always performs better when moving. But as you'll see from the blooper footage, letting a six-year old blind boy roam freely, reciting Shakespeare, didn't work out so well."
Jonah willingly learned the poem. It didn't require any pressure or discipline. Naturally outgoing, Jonah's now a member of Stratford's Playmaker's Theater School. "I like the speech," says Jonah, now 7-years old, "because it's about never giving up. I also like the part about the scars."
So why did John decide to spend his evenings coaching his six-year old in a 500 year old battle speech? "Despite the English being outnumbered six-to-one," says John, "they won with only minor causalities. It's about doing what you think is right and honorable; not what is certain or easy."
Simply memorizing a four-minute speech in Shakespearean English may have seemed like an impossible battle for a young boy. But Jonah didn't stop there. Using a combination of Braille and a talking computer, he typed one word from each line of subtitles. The behind-the-scenes footage shows him working away at this daunting task.
"We could have just copied and pasted," said John. "But this way he knows the speech better and his typing has improved. He's learning valuable skills while at the same time producing a finished product."
Born blind, Jonah can not read text or distinguish faces. He can, however, recognize large objects and see colours. He's lived in Stratford his whole life, except for a eight-month stint in South Perth.
The Battle of Agincourt video will be released to the world on Jonah's website at www.JonahsWorld.net/agincourt – this Saturday at 7am. Those interested can go to website early to signup for an email reminder.